15-18 NOVEMBER 2018
BELGRADE
Fatboy Slim
One of the greatest DJs and producers of all time, and a relentless party maker Fatboy Slim will headline EXIT's whole-new No Sleep Festival on November 15th. This will be an exclusive one-off show simply dubbed as the Warehouse Rave which he describes as "one big intense party with plenty of lasers, dirty lights and smoke machines"! The music selection will traverse from today's floor killers to classics anthems who are still shaking the biggest crowds around the globe. Known for his true DJ craft, Fatboy Slim brings in his highly energetic sets a spectrum of sounds from across the whole global rave movement that came about exactly 30 years ago in what was the Second Summer of Love in 1988! Acid synths, Latin percussions, piano rolls, string choruses, epic samples and other pillars that hold the global rave movement, will all come together at a party in a New Hangar, which is a mammoth warehouse in the Port of Belgrade, at the banks of Danube. Adding to the overall vibe, the venue is surrounded by cranes, loading docks, rails and a labyrinth of halls, while located just a mile away from Serbian capital's central square!
Nina Kraviz
After three historic performances in EXIT finales, as well as headlining almost every other leading festival in the world, Nina Kraviz is coming back to Belgrade, the city she remembers very well for some of her earliest steps towards the global scene, outside of her native Russia. Nina returns at the moment when the whole world is watching her every move with the unprecedented attention, while her new music keeps hitting the floors in the shape of genre-bending remixes. In the same time, her distinctive record label трип just had its 20th release, a ten-track LP compilation featuring the purest forms of acid, industrial techno and even gabber. Shuffling constantly sleepless between train stations and airports, the biggest stages and the smallest of record shops, playing among the heavyweights like the one she has become herself and pushing along her side some of the least known talents, Nina remains fundamentally independent. Without any managers to run her career and call the safe shots, she draws creative people from all sides, helping others to get the much-deserved spotlight she carries with her whilst making way for the next generation headliners.
Dax J
DJ Mag's recent cover star Dax J is famous for his closing sets of the world's biggest festivals such as Awakenings at ADE. Globally renowned magazines Mixmag, Groove Magazine and DJ Mag proclaimed him the best younger generation DJ, while his historic 10-hour marathon set in the world's most famous techno club Berghain made him a headliner on numerous globally popular festivals, just like Adam Beyer, Ben Klock and others.
DJ Tennis b2b Marcel Fengler
No Sleep Festival will also welcome a back2back duo made of Life and Death's head honcho and a global electronic music aficionado DJ Tennis together with Berghain's resident and Berlin's techno legend Marcel Fengler! This unusual duo recently indulged in a mind-blowing 9-hour back2back set in the Parisian club Concrete, which was showcased two years in a row at a No Sleep stage of EXIT Festival. When asked to describe the sound of this unexpected duo, DJ Tennis replies: "It's techno but with a twist. Ravey and happy. It's also acidic, with some electro, it's fun. Girls seem to like it!".
I Hate Models
Nostalgia, passions, the suffering self, the taste for loneliness, dreaming – I Hate Models touches on all these themes with a music submerged by melancholia. Navigating through styles, he arouses as much emotion as exaltation. Synthwave, Early Trance, Cold-Wave or Industrial Music are parts of the multiple influences which create his universe. With an artistic line based on the expression of melancholia and intense emotions, his music can be characterized by a showdown between Love and Hate, Darkness and Light. He rapidly caught the world's attention thanks to his furious Depeche Mode remixes and a list of singles spearheading the new super-exciting wave on the world electronic scene.
Aleksi Perälä ◇ Live
Born in Finland in 1976, Aleksi Perälä has been an independent producer and a electronic music composer for over 20 years. In March this year, the Finnish composer with probably the greatest opus in electronic music published his new, 35th album, featuring as many as 54 new tracks! Perälä started his career two decades ago under the names Ovuca and Astrobotnia, publishing music for Aphex Twin and his legendary Rephlex label. At that time, many speculated that Richard D. James himself was hiding behind those Perälä's pseudonyms. Even though the real author is still hiding far from the spotlight of social and classic media, over time this tireless Finnish artist living and working in the ruralside of UK came to be known as one of the most prominent contemporary composers.
+ many more to be announced soon
After gathering more than 20,000 electronic music fans at the Petrovaradin Fortress on the additional day of EXIT Festival last summer, which saw performances from Jeff Mills, Ellen Allien, Paula Temple & Rebekah and many more, it's time for a new festival edition, this time in Belgrade! The capital of Serbia is known for its vibrant clubbing scene and a rising reputation at the global electronic music scene.
From 15 to 18 November, No Sleep is inviting everyone to Belgrade for a weekend full of stellar sets in a mammoth warehouse next to Danube and other celebrated venues in the heart of the Serbian capital.
As a music platform, No Sleep has been a vital part of EXIT Festival for the past four years and in 2018, with its own festival, we are writing a new chapter together.
Port in the heart of the city
Over a sleepless weekend in Belgrade, No Sleep Festival will feature dozens of artists in multiple venues for over thousands of No Sleepers. 
The indoor electronic music festival will include round the clock events across several points in the heart of the city. The two main events will be held at the colossal new Hangar in Port of Belgrade with its industrial setting contrasted by Europe's largest river Danube and located just 10 minutes of walking from Belgrade's epicenter, the Republic Square. The whole area is also known for its underground electronic music clubs like Drugstore, KPTM, Dot… Conference, workshops, afterparties
Besides its two main events, No Sleep Festival will also feature daytime parties, workshops and exhibitions, along with a music conference with very exciting international and local speakers.
Its goal is to address many different aspects and experiences that surround the electronic music scene of today. Convergence of people that have different experiences will spark a dialog on both known and yet unmapped areas of the global and local scene.
Program and more information will soon follow.
No Sleep was envisioned as a music platform that combines what a great and most intense party should look and feel with groundbreaking and forefronting electronic music and arts of both today and tomorrow.
The initial seed was created with EXIT's iconic No Sleep Novi Sad stage which quickly gained international fame. Each year, EXIT partners through No Sleep with some of the world's most exciting clubs which are showcased at the festival and make launch events. The list includes fabric, Tresor, Concrete, Sub Club, Fuse, Arma17, The Bunker NY, Avant Garde at Corsica Studios, Goa Club, Nitsa, Grelle Forelle, Drugstore, 20/44, Tunnel…
Our media partners include Resident Advisor, DJ Mag, Mixmag, XLR8R, Crack Magazine, Data Transmission and few dozen more regional outlets.
"Home to the most interesting lineups!"
— Resident Advisor
"There are few stages in the world that compare."
— DJ Mag
"The past years have seen Exit's No Sleep stage become a festival in itself."
— XLR8R
"Our favorite stage from EXIT Festival."
— Data Transmission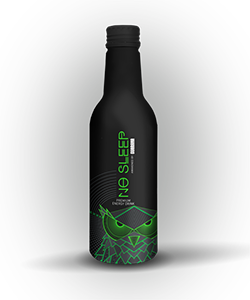 Nowadays, besides the stage at EXIT and its own festival in Belgrade, No Sleep platform also has its annual beach edition at Sea Dance Festival in Montenegro and even its own limited series of light energy drink packed in recyclable aluminium bottles with No Sleep's distinguishable design called No Sleep awakened by Guarana.
No Sleep lineups brought 200+ artists over the past four years
Hundreds of artists gathered around No Sleep events to this date, from last year's No Sleep Festival to No Sleep Novi Sad stage at EXIT, or its beach edition at Sea Dance Festival, to all the numerous No Sleep events accross some of the world's leading clubs, including both global and regional heroes:
Abelle
Adiel
Akioki
Amelie Lens
Antigone
Bas Mooj
Behzad & Amarou
Ben Vedren
Beyond House
Bjarki
Blackhall & Bookless
Boža Podunavac
Brka
Bryan Kasenic
Cassegrain
Campbell Irvine
Charlotte de Witte
Clockwork & Avatism
Craig Richards
Daniel Avery
Dasha Redkina
Dasha Rush
Dax J
Deepchord
Dejan Milićević
Denis Horvat
Denis Sulta
Disco Not Disco
DJ Fra
DJ Jock
DJ Red
DJ Tennis
Dr. Rubinstein
Eagles & Butterflies
Ellen Allien
Eric Cloutier
Erika
Etapp Kyle
Fabrizio Sala
Filip Xavi
Fort Romeau
Francois X
Föllakzoid
Forest People
Function
Giorgio Gigli
Harry & Domenic
Henning Baer
Helena Hauff
Honey Dijon
Ilija Djokovic
Insolate
Jane Fitz
Jeff Mills
Jennifer Cardini
John Selway
Julia Govor
Kandging Ray
kӣr
Klaus
Kobosil
Kristijan Molnar
Lag
Lego
Leo Pol
Løt.te
Man Power
Marko Milosavljević
Midland
Mihajlo HFM
Mike Servito
Monosaccharide
Moritz Von Oswald
Moscoman
Nemanja Krstić
Nenad Marković aka 33.10.3402
Nicolas Lutz
Nikita Zabelin
Nina Kraviz
Noise Destruction
Parrish Smith
Patrick Russell
Paula Temple
Philipp Gorbachev
Pierre
Powell
Psyk
Radial
Ranishe Niyaak
Re: Axis
Rebekah
Rebolledo
Red Axes
Regen aka Miloš Pavlović
Rødhåd
Scalameriya
Schwabe
Scott Fraser
Shlømo
Silvie Loto
Sleeparchive
Sloxxx
SNTS
Sofia Rodina
South London Ordnance
Space Dimensions Controller
Stevie Whisper
Svetlana Maraš
Tapan
Techa
The Hacker
Tijana T
Tin Man
TKNO
Tolouse Low Trax
Tommy Four Seven
UVB
Vakat aka Aleksandar Grum
Vatican Shadow
Vlada Janjić
Vladimir Aćić
Vladimir Ivković
Voiski
Zadig
Abelle, Adiel, Akioki, Amelie Lens, Antigone, Bas Mooj, Behzad & Amarou, Ben Vedren, Beyond House, Bjarki, Blackhall & Bookless, Boža Podunavac, Brka, Bryan Kasenic, Cassegrain, Campbell Irvine, Charlotte de Witte, Clockwork & Avatism, Craig Richards, Daniel Avery, Dasha Redkina, Dasha Rush, Dax J, Deepchord, Dejan Milićević, Denis Horvat, Denis Sulta, Disco Not Disco, DJ Fra, DJ Jock, DJ Red, DJ Tennis, Dr. Rubinstein, Eagles & Butterflies, Ellen Allien, Eric Cloutier, Erika, Etapp Kyle, Fabrizio Sala, Filip Xavi, Fort Romeau, Francois X, Föllakzoid, Forest People, Function, Giorgio Gigli, Harry & Domenic, Henning Baer, Helena Hauff, Honey Dijon, Ilija Djokovic, Insolate, Jane Fitz, Jeff Mills, Jennifer Cardini, John Selway, Julia Govor, Kandging Ray, kӣr, Klaus, Kobosil, Kristijan Molnar, Lag, Lego, Leo Pol, Løt.te, Man Power, Marko Milosavljević, Midland, Mihajlo HFM, Mike Servito, Monosaccharide, Moritz Von Oswald, Moscoman, Nemanja Krstić, Nenad Marković aka 33.10.3402, Nicolas Lutz, Nikita Zabelin, Nina Kraviz, Noise Destruction, Parrish Smith, Patrick Russell, Paula Temple, Philipp Gorbachev, Pierre, Powell, Psyk, Radial, Ranishe Niyaak, Re: Axis, Rebekah, Rebolledo, Red Axes, Regen aka Miloš Pavlović, Rødhåd, Scalameriya, Schwabe, Scott Fraser, Shlømo, Silvie Loto, Sleeparchive, Sloxxx, SNTS, Sofia Rodina, South London Ordnance, Space Dimensions Controller, Stevie Whisper,, Svetlana Maraš Tapan, Techa, The Hacker, Tijana T, Tin Man, TKNO, Tolouse Low Trax, Tommy Four Seven, UVB, Vakat aka Aleksandar Grum, Vatican Shadow, Vlada Janjić, Vladimir Aćić, Vladimir Ivković, Voiski, Zadig
+ many more awakened acts who played at No Sleep lineups over the past four years.
MAIN EVENTS
AFTERPARTIES
DAYTIME PARTIES
PANELS
EXHIBITIONS
WORKSHOPS
CONTACT US